Arthur Tauber
Critical thinking and leadership development through the sport of fencing.
Yeshiva College Fencing 1950
Yeshiva College Fencing 1950
The Year in Review
Individual Records

1950 Team Record

Yeshiva College

19

Hunter College Veterans

8

Yeshiva College

14

Cooper Union

13

1950Team Members

(Black field indicates Team Captain)

Paul Ritterband

Wolf Helmreich


Michael Rock

Stanley Z. Siegel

N. Toporovsky
M. Epstein
W. Millen
S. Feder
N. Schulman
O. Schontal
F. Klein
J. Reiner
H. Panitch
A Wales
M. Korn
I. Klein
S. April
R. Hammer, Manager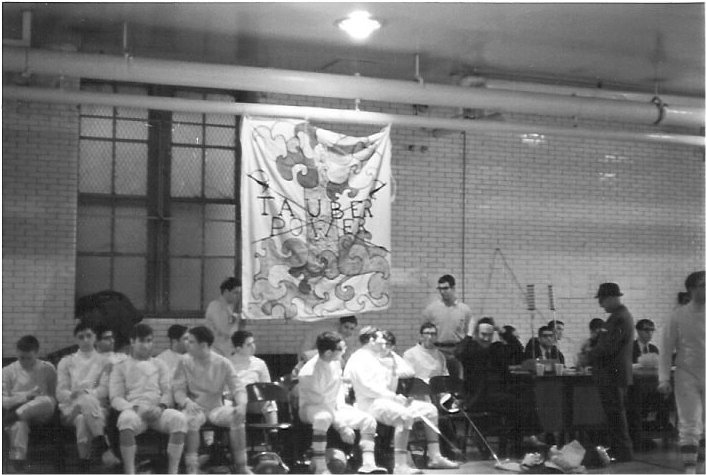 Dr. Arthur Tauber, seated to the left of the scorer's desk and adjusting his yalmuka, during a home match in the old gym of the Main Building during the 1968 season. Note the Team Banner, "Tauber Power" on the wall behind the team, which we understand was made by Coach Tauber's daughter Valerie.
If anyone is able to identify the fencers in the above photograph or provide any details about the Team Banner, please contact us.